YOU AGREE TO MY SALES POLICY WHEN YOU CONTACT ME ABOUT A RABBIT (BUY OR FREE) WEATHER YOU READ IT OR NOT. I WOULD ADVISE YOU PLEASE READ IT.
MY ANIMALS GO TO APPROVED HOMES ONLY.
If for any reason you decide you do not want your rabbit later on or cannot keep them, contact me first! I will take them back, no questions asked. I want to see them go somewhere that I trust.
My sales policy states when you purchase a rabbit from me you agree to my sales agreement. You agree to surrender your rabbit back to me if you can no longer keep it.
By Buying a bunny from us you agree to terms on my sales policy page. SO PLEASE READ!
(425) 330-2066
NETHERLAND DWARFS
ALSO CHECK THE NETHERLANDS and
NURSERY/LITTERS PAGES
I HAVE MORE FOR SALE RABBITS
LISTED ON THE NETHERLANDS PAGE.
Rew Senior Doe 100% Lots-a-hop's Lines $60
Sable Point Senior Doe Precious Jewels, McCreadys & Lots-a-hop's Lines $60
Black Himalayan Senior Doe McCready, Micro Ranch, Carr's & Covert Lines $60
Black Himalayan Senior Doe Micro Ranch Lines $65
Blue Point Senior Doe McCready, Lots-a-hop's, CF & Dad's Lines $60
Sable Point Senior Buck Hidden Jules, Precious Jewels, Tanglewoods, Lots-a-hop's Lines $50
Siamese Sable Senior Buck Country Field & Tanglewood Lines $65
Siamese Smoke Pearl Senior Buck Ritter Lines

I will be breeding these girls so if they are pregnant then they will be available after their litter.
BROKEN (MOSTLY WHITE) BABIES!

BROKEN ORANGE BUCK #1 $20
BROKEN ORANGE BUCK #2 $20
About 4 months old
HOLLAND LOPS
CHECK THE HOLLAND LOPS and
NURSERY/LITTERS PAGE
BROKEN BLUE SENIOR BUCK
ABOUT 1 YEAR OLD
VERY GOOD TYPE AND TEMPERMENT
LINES- HIDDEN JULES, CAMPO'S, SNOWY'S AND DRAGONFLY'S.
$60
PET, SHOW OR BREEDING QUALITY
pictured below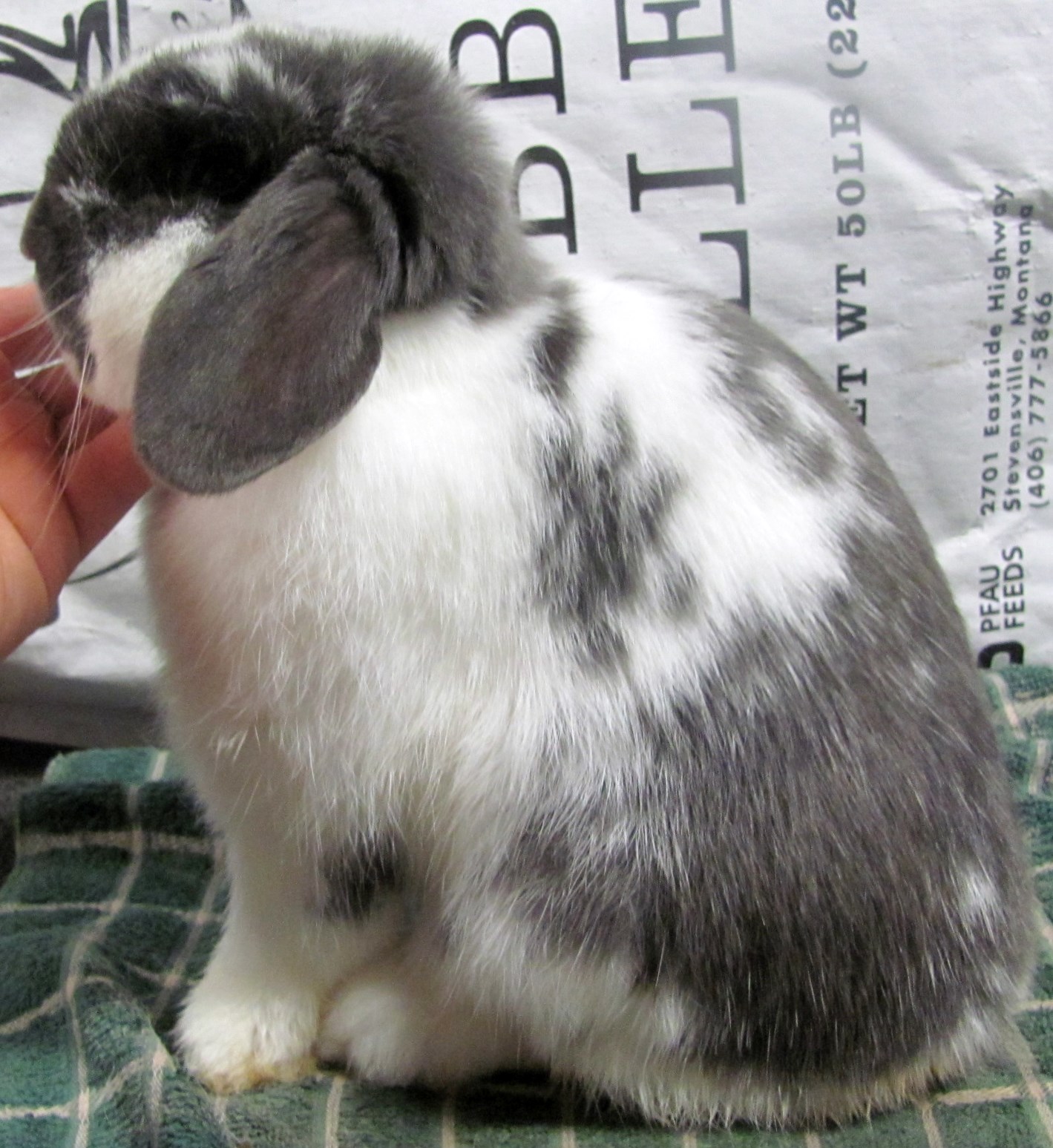 DWARF HOTOTS
CHECK THE DWARF HOTOTS and

NURSERY/LITTERS PAGE
CAGES AND SUPPLIES

We reserve the right to update our Sales Policy at any time without notice.
I SOMETIMES WALK ACROSS THE CLINTON/MUKILTEO FERRY WITH RABBITS AND MEET PEOPLE IN MUKILTEO.
THE ADDRESS OF THE FERRY DOCK IN MUKILTEO IS-
614 Front Street
Mukilteo, WA 98204
I CHARGE A $15 FEE TO COVER THE FERRY AND PARKING WHEN I WALK ACROSS TO MEET PEOPLE IN MUKILTEO.
ALL YOUNG RABBITS ARE AT LEAST 8 WEEKS OF AGE
BEFORE I DECIDED TO SELL THEM. I MIGHT KEEP THEM LONGER
TO WATCH AND SEE IF I WANT TO KEEP ANY.

PLEASE FEEL FREE TO EMAIL ME IF YOU ARE LOOKING FOR SOMETHING IN PERTICULAR.

EMAIL ME IF YOU SEE ANYTHING YOU LIKE!
I AM FIRM BUT REASONABLE WITH MY PRICES.
OPEN TO TRADES AND MULIPLE RABBIT DISCOUNT.